Meet the Millstone Evans Group Team: Martial Frindethie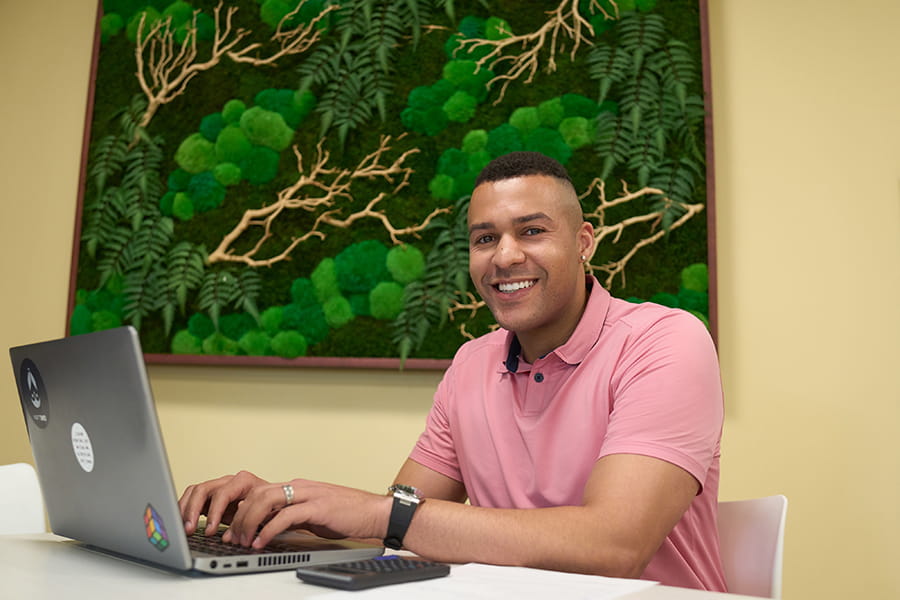 "Higher education should not be a luxury. It is a necessity, an economic imperative that every family in America should be able to afford."
President Barack Obama
Affording education, or more to the point, making education affordable, is one of Martial Frindethie's passions and a focal point of his work with The Millstone Evans Group. With the company for over 10 years, Martial was an intern when he started. As Director of Operations and Financial Planning Associate, Martial has come a long way since those early days, When you read his bio, you quickly see how far.
"Having worked at the company since I was 20 years old, I have really grown up with the company and clients," he says of his now nearly 12-year tenure. "Many clients may not know how young I was when I started and how pivotal being part of the Millstone Evans team has been to my life and career. But over the time we've gotten to know each other, I feel fortunate to be part of their lives."
As he shared in a previous blog post, Four Things I Wish I Knew Before Applying to College, hearing clients' stories about planning for college and the financial challenges that families face when it comes to the high cost of tuition has had a profound impact on him. That knowledge – along with his own experiences of financial insecurity and concerns about affording tuition – have made him want to help clients plan ahead so they can avoid some of the common pitfalls and traps such as 'just get admitted to the school and we'll figure out how to pay for it later.'"
"Scholarships and financial aid helped me pay for the first year of college, but that didn't continue into sophomore year and then I fell prey to high interest predatory loans which were easily available," he says. "You don't hear about the downside of what you'll end up owing later." (In another recent blog post, he shared Financial Aid 101: What Families Need to Know Before They Apply.)
Martial is also passionate about other aspects of financial planning, including helping LGBTQ+ people save money for retirement. As a gay man, he's well aware of the specific LGBTQ+ community concerns around aging, equality and partnership, and often complicated financial planning needs related to financing older futures. As SAGE, the advocacy organization for LGBTQ+ elders, shares in their research, LGBTQ+ individuals are twice as likely to be single and live alone, four times less likely to have children, and they still face limited access to affirming, accessible, and culturally competent aging resources. He's proud to work for a firm that cares about these issues, too, and shares his commitment to LGBTQ+ equality.
"Being part of this growing team is fun and collaborative," he says. "I used to play football as well as do track and field and mixed martial arts, and I've always liked being part of a team." And while the staff may be growing, it's still a relatively small company, which Martial sees as an advantage.
"For both current and prospective clients, I especially like the value our team offers," he says. "For example, when a client wants not only to focus on financial returns but also on longevity planning, insurance, estate planning, ESG investing and sorting out Medicare options, my Millstone Evans colleagues bring that experience and support to the table. We all wear a variety of hats on the team, which means we both specialize in certain areas as well as maintain a broad base of knowledge and skill sets to support the business."
Another one of Martial's hats is as a sort of company guru when it comes to technology.
"Pretty early on I was considered the tech guy in the office because I was younger, always in front of a computer and had some engineering educational background," he says. "Ever since I was a kid, I was the one who set up family computers for my parents. I had a natural ability to navigate different platforms and technology and loved diving in and learning more, so I was a natural to be the tech guy who could then help colleagues and clients."
When The Millstone Evans Group went independent a couple years ago, Martial was uniquely positioned to help the team choose what technology was needed and what cybersecurity protocols should be put in place.
Currently, Martial splits his time between New York and Colorado and is very excited to be getting married this coming June. You can reach him at (720) 728-2805 or email Martial@MillstoneEvansGroup.com.