The Money Conscious Podcast
with Sacha Millstone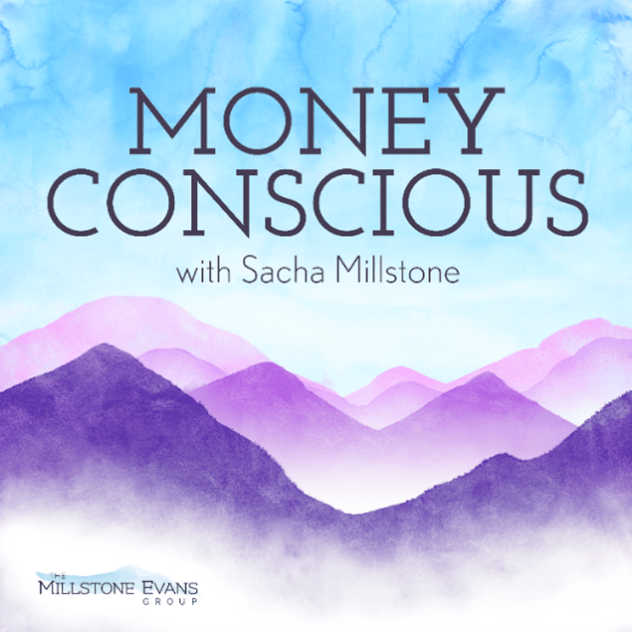 Please listen to our podcast, Money Conscious, on Apple, Spotify, Google or wherever get your podcasts. Or listen to the podcast on the Sacha on Money & More blog – including accessing all previous episodes.
Why did Sacha decide to launch a podcast now? She was looking for an engaging new way to cover topics that will help you envision your own investment strategy as well as offer insights around investments, financial planning, asset allocations and more.
In every episode of Money Conscious, Sacha will talk with exciting, knowledgeable guests about what it means to invest our money consciously. As most of you know, this topic has been a passion of hers for 30 years. We love the title Money Conscious since it reflects two priorities we're passionate about at The Millstone Evans Group: putting your values where your money is, and raising consciousness about money matters in an easy, personal and relatable way.
Clients ask us all the time if their investments are set up properly to achieve their goals and if their portfolios could better reflect their values. This podcast gives us a new way to answer your questions and more as we explore businesses and trends that are shaping our future and helping us reach critical global goals. We can't wait to engage thought leaders, investment strategists, portfolio managers and our audience in enlightening conversations.
The format is simple: it's Sacha Millstone and a guest or two, and an occasional co-host from The Millstone Evans Group team – talking plainly and directly for 30 to 45 minutes. We'll cut through the jargon, clutter and information overload that can make it too hard – unnecessarily so, in our opinion – for you to focus on investing in your values and belief systems.
After you've listened, let us know what you think of the podcast. We welcome topic suggestions. We hope you'll forward the podcast link to your family, friends and colleagues. And if you like the show, please review it so others can find it too.
Happy listening!