The Art of Sharing
Because of you and your artistic vision, the past year at The Millstone Evans Group has been filled with breathtaking beauty and symbols of strength.
We would like to thank each and every one of our talented friends and clients who shared their creative works with us in 2019. Your imagination has inspired us, motivated us and brought us to tears.
We are so grateful to know so many passionate artists, activists and philanthropists who spark joy, healing, contemplation and action through various forms of media.
We very much appreciate each and every one of your gifts, and we thank you for sharing with us your dreams, perspectives and beliefs – the things that are closest to you.
Please enjoy this collection of works created by and for you, and shared with our team in 2019.
Laurie Goldman
ClimateMusic
Laurie Goldman is Director of Public Engagement for ClimateMusic, whose mission is to "communicate a sense of urgency about the climate crisis by combining climate science with the emotional power of music to drive meaningful action."
Combining the talents and expertise of world class scientists, composers, musicians, artists, and technology visionaries, The ClimateMusic Project enables the creation and staging of science-guided music and visual experiences to inspire people to engage actively on the issue of climate change.
Below are ClimateMusic's year in review and an excerpt from "Climate", depicting the years 1958-2030.

ClimateMusic 2019

Excerpt from "Climate" – 1958-2030
Susan Bass
Earth Day
As Senior Vice President of Programs and Operations for Earth Day, Susan Bass shared with us a campaign that harnesses the power of the arts for the planet.
Whether through performing arts, fine arts, literary arts, visual arts or otherwise, in the lead-up to the 50th anniversary of Earth Day, "Artists for the Earth will create a global conversation through art with thousands of performances, programming exhibits, installations and more dedicated to themes on the environment."
Artists for the Earth seeks to educate, motivate and inspire action to protect the Earth by engaging thousands of museums, orchestras, theaters, performers, authors and artists for all walks of life and every continent on Earth.
Below is "Glacier Blue", acrylic on canvas, by Laura Fishman.
Click here to learn more or to submit art of your own.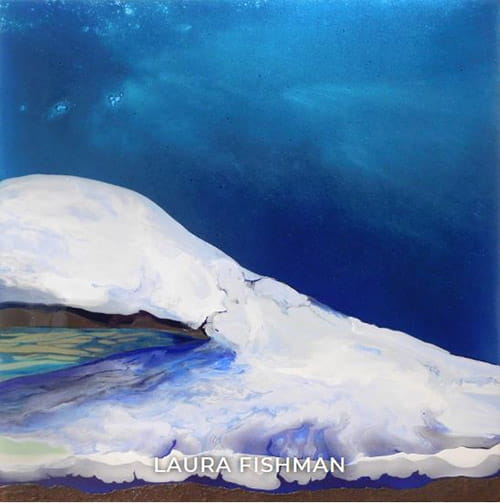 Rose Jaffe
Multidisciplinary Artist
Based in Washington, D.C., Rose Jaffe is a native Washingtonian whose works in various disciplines feature women and community. In D.C., you can find her vibrant murals around town, including this colorful depiction of Supreme Court Justice Ruth Bader Ginsburg, near the intersection of 15th and U streets in Northwest Washington.
When National Museum of Women in the Arts asked Rose what inspires her, she replied:
"I want my art to bring color, energy, light and meaning to a space. The powerful and vibrant women around me inspire my work. I am intrigued by the lines of a face and the stories our bodies tell. By painting larger-than-life portraits of everyday women, I celebrate and honor their existence."
Visit Rose's website to view more of her work, from illustrations to ceramics.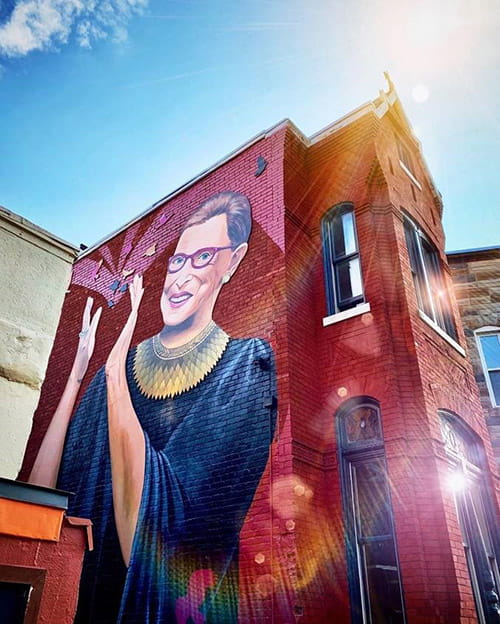 Bob Hoehn
Composer and Sound Designer
Venice-based sound designer and renowned Burning Man installation artist Bob Hoehn worked with longtime collaborator Jessica Rath to create "Resonant Nest", a human-scaled native bumblebee nest sculpture that emanates human voice interpretations of bee communication.
You may remember Bob's notable Prairie Wind Chapel installation that he shared earlier in the year.
The 6-part "Resonant Nest" score was composed by Bob and performed by the Bob Cole Conservatory of Music 40 person Chamber Choir at California State University, Long Beach's (CSULB), one of the most prestigious choral departments of the West Coast. An internal plug mold was used to create the nest's 19 modular units, each embedded with speakers whose score shifts with sensory inputs based on current weather, time, and gallery viewer closeness to the nest. Data illustration by artist Vivian Sming displays these shifts and names score changes through the day.
"Resonant Nest" photo credits: Aisha Singleton, Gioia Licorish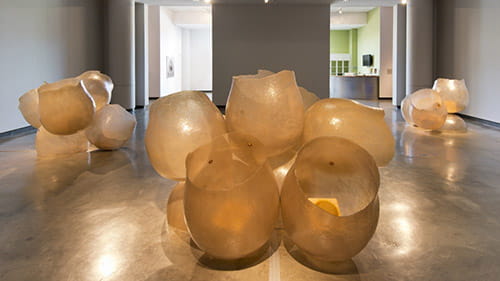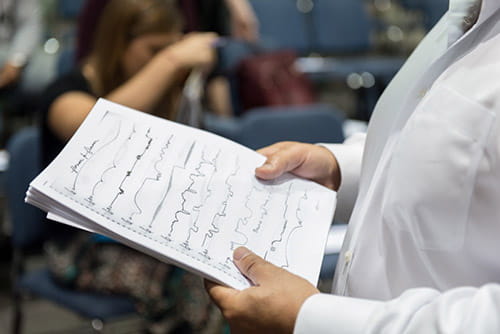 Gary Bercow
Artist and Teacher
Gary Bercow has been throwing and teaching ceramics since 1980. This teapot and matching teacups are all thrown on the wheel and high fired.
"My work incorporates surface texture and contrasts using stains," Gary said. "The handle is carved clay, which represents pieces of wood. My overall concept is to give an organic natural feel and look to my pieces."
In addition to ceramics, Gary has been working with oil painting since the 1980s as well. His work has been displayed in New York City and Washington, D.C., galleries. One of his more recent pieces, included here, was created with thick textured intaglio oil on canvas.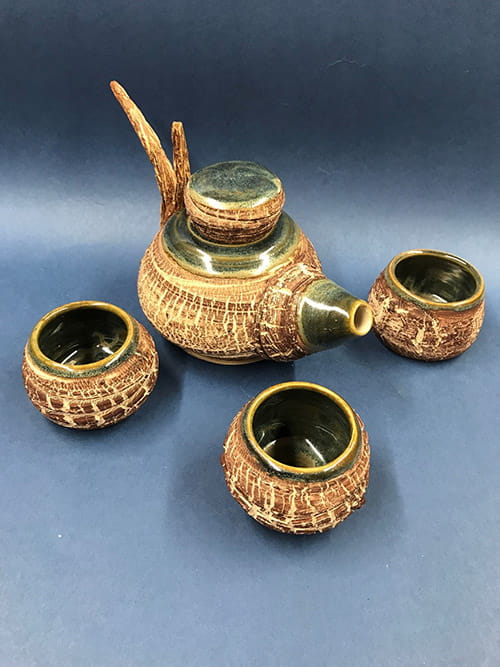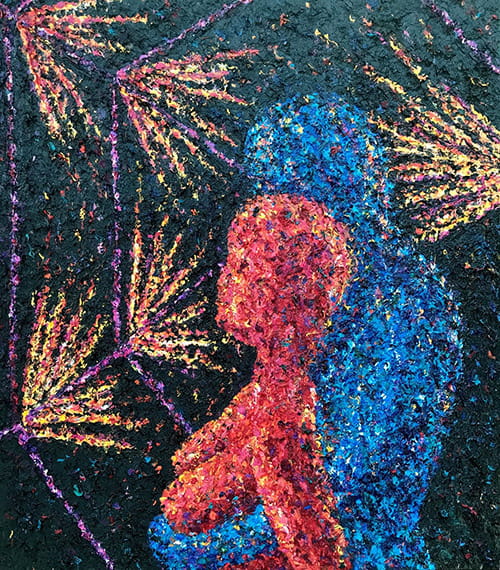 Allison Danbom
Fine Artist
Below is a piece called "When the Earth Was Still Flat" by fine artists Allison Danbom. Allison prefers to let her work speak for itself. View more at allisondanbom.com.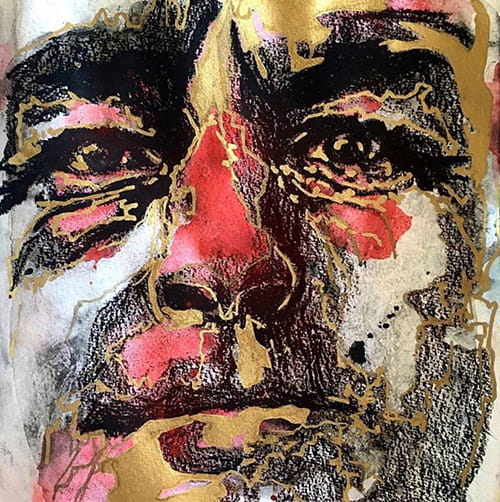 Yeshe Dorje
Nature Photographer
Yeshe Dorje resides atop a mountain, amid the wonderful sights and sounds of Colorado, and little else.
"Almost all of the smaller birds' and animals' pictures are taken right from my front window," Yeshe said.
With wildlife all around, Yeshe finds himself in a paradise of sorts.
"Many people forget that animals are sentient beings just like us. They strive for their happiness (much of it focused on the immediate desire for food), have love for each other and try to avoid suffering," Yeshe said.
"What I try to capture is something of the character or personality of the individual, just as we do with human portraits," Yeshe said. "No one considers all humans to be the same. In fact, I was taught by my father (who was himself born of Jewish ancestry but never practiced that faith) that it is very dangerous whenever people characterize "others" general ways as if everyone in such a group were somehow the same. So I enjoy trying to find something of the unique aspects of different animals that tend to bring out a more personal, unique or relatable quality in them."
Below is one of the moments he recently captured: This little one is "King of the Mountain".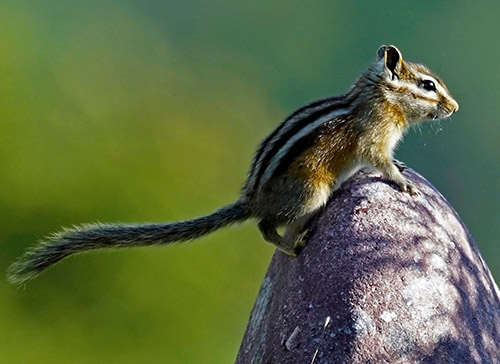 All opinions expressed are those of the author and not necessarily those of Raymond James. Opinions expressed are as of this date and subject to change at any time without notice.